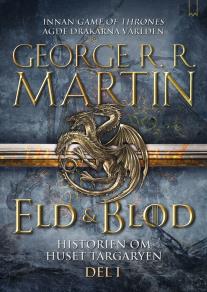 Isbn:
978-91-8885-972-3
Publisher:
Bookmark Förlag
Category:
Fantasy & Sci-Fi
Accessible since:
November 2018
---
Eld & Blod: Historien om huset Targaryen (Del I)
DRAKARNAS TID
300 år före Game of Thrones landsteg Aegon I i Västeros. Med sina systrar vid sin sida besegrade han de sju konungarikena och inledde drakarnas styre. Genom storslagna strider och politiska maktspel försvarade huset Targaryen sin tron och styrde världen med järnhand. Det här är deras berättelse.
I Eld & Blod Historien om huset Targaryen (Del I) skildrar den bästsäljande författaren George R.R. Martin den mest fängslande dynastin i Västeros: draklorderna Targaryen. Som kända från succéserien Game of Thrones berättas nu deras historia, från erövrandet av de sju konungarikena till upptakten till det ödesdigra Drakarnas dans. Vackert illustrerad av Doug Wheatley.
---