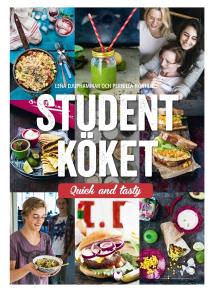 Isbn:
978-91-7469-324-9
Publisher:
Ordalaget Bokförlag
Category:
Cooking, food and drink
Accessible since:
January 2020
---
Studentköket - quick and tasty
Smart kokbok för studenter!

Att laga god och nyttig mat från grunden ­behöver inte vara svårt eller ta lång tid.

Förutom enkla, snabba recept får man bra tips på ­vägen: Hur behandlar man rå kycklingfilé? Hur får man piff på maten? Vad gör man med rester? Vad funkar bra att frysa in?

Är man utled på hämtmat och vill att det ska gå snabbt även mellan träning, studier och aktiviteter finns här uppslag om supersnabb mat, varma mackor ...

Cirka 60 recept och många inspirerande kapitel: Save my busy day, Easy being green, Gone fish­ing, Wrap it up, Chicken in my kitchen, Hello Sweetie, Friends and food ...

Här finns även tips på vad man kan laga ihop med kompisar. Och det lilla extra är inte bortglömt, som smoothies, dipp­såser och goda efterrätter.


---