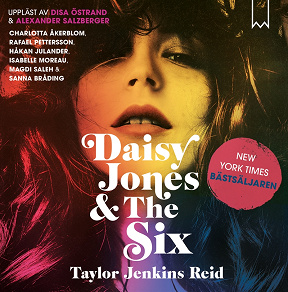 Daisy Jones & The Six
ALLA VAR DÄR. ALLA MINNS DET OLIKA.
Under en period var Daisy Jones & The Six överallt. Deras album spelades på alla klubbar, de sålde ut arenor över hela världen och deras musik definierade en hel era. Så plötsligt, den 12 juli 1979 splittrades bandet. Utan att någon fick veta varför. Förrän nu. 
De var älskare och vänner, bröder och rivaler. Rockbandet The Six kunde knappt greppa vilken tur de hade innan allt tog slut. Detta är deras berättelse om hur allt en gång började och de vilda nätterna som följde.
Men bandmedlemmarna minns sanningen olika. Det enda som samtliga är ense om är att från den stunden då Daisy Jones barfota klev upp på scenen på the Whisky blev ingenting sig likt.
Att skapa musik handlar aldrig bara om musiken. Och ibland kan skiljelinjen mellan ljudvågor och känslor vara svår att uppfatta. 
Daisy Jones & The Six är berättelsen om bandets uppgång och dramatiska fall, vid toppen av deras framgång. Det är en omvälvande kärlekshistoria och ett ikoniskt porträtt, skrivet som ett muntligt vittnesmål över ett av 70-talets främsta (men aldrig existerande) rockband. 
Taylor Jenkins Reid bor i Los Angeles med sin man, dotter och hund. Hon har skrivit ett flertal bästsäljande romaner varav den senaste, Evelyn Hugos sju äkta män, är utgiven på svenska.
Listen to sample
---