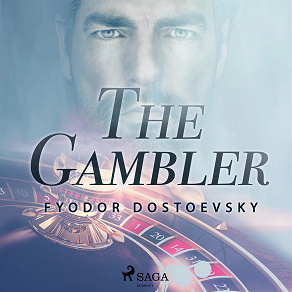 Isbn:
978-87-2697-620-5
Publisher:
Saga Egmont
Category:
Novels
Historic facsimile
Accessible since:
December 2021
Narrator:
Ciaran Saward
Length: 6 hours 7 minutes
---
The Gambler
One of Dostoevsky's shorter novels, "The Gambler" reflects the author's own difficult and prolonged battles with gambling as one of his major addictions. It is the story of a young man with aspirations to see and go beyond the established order, but in reality only gets stuck deeper and deeper into addiction and degradation. Dostoevsky does a great job in painting the psychological portrait of the protagonist, Alexey, who is having difficulties finding meaning in life and himself.

Fyodor Dostoevsky was a famous Russian writer of novels, short stories, and essays. A connoisseur of the troubled human psyche and the relationships between the individuals, Dostoevsky's oeuvre covers a large area of subjects: politics, religion, social issues, philosophy, and the uncharted realms of the psychological. He is most famous for the novels "Crime and Punishment", "The Idiot", and "The Brothers Karamazov". His literary legacy was met with mixed feelings, but remains gargantuan in its influence.
Listen to sample
---