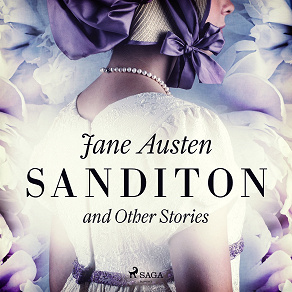 Isbn:
978-87-2835-072-0
Publisher:
Saga Egmont
Category:
Novels
Historic facsimile
Romance
Accessible since:
April 2022
Narrator:
Avita Jay
Length: 7 hours 13 minutes
---
Sanditon and Other Stories
In a new audio adaptation of some of Austen's lesser known works, Avita Jay brings to life the wit and satire of one of England's greatest authors.

In Austen's final and unfinished novel, Charlotte Heywood finds herself caught up in the comings and goings of the lively seaside resort "Sanditon". It is a story filled with a cast of colourful characters, from the widowed Lady Denham to wealthy Caribbean heiress, Georgiana Lambe, and the dashing, Sidney Parker. Naturally, romance and scandal ensue.

The incomplete story has inspired many writers to take the work into their own hands, including the popular adaptation by the ITV, starring Theo James.

"Lady Susan" is an epistolary novel that follows the charming, irreverent, newly widowed Lady Susan. Beautiful, flirtatious and utterly, unashamed, she goes about seducing a married man, terrorizing her relatives, and subverting all expectations of the maudlin, frumpy widow.

The book was adapted for the screen under the name "Love and Friendship" in 2016 and stars Kate Beckinsale, Chloe Sevigny, Xavier Samuel and Stephen Fry.

Another unfinished novel, "The Watsons" follows Emma Watson, the youngest daughter of a poor clergyman who was raised by a wealthy aunt. Returning home, she is bored by her husband-hunting sisters, but soon catches the eye of local gentleman, Lord Osbourne.


There are few authors as iconic as Jane Austen (1775-1817). Her body of work contains some of the most beloved books and characters of all time which have been in print for over two hundred years and sold millions of copies worldwide.

Austen was a trailblazer, famed for her satire, her astute social commentary and her strong-willed, passionate heroines.
Her ability to wield humour with realism has found her favour with critics and readers for generations.

Her most famous works include Pride and Prejudice (1813), Emma (1816), Sense and Sensibility (1811) and Persuasion (1818), all of which have received success in adaptations for the screen, stage and radio.
Listen to sample
---