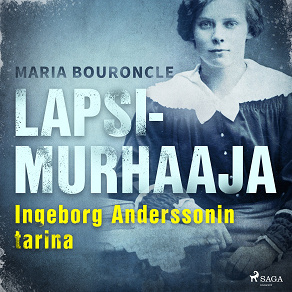 Isbn:
978-87-2693-062-7
Publisher:
Saga Egmont
Category:
Memoirs & Biography
Psychology
Accessible since:
August 2022
Narrator:
Sanna Majuri
Length: 5 hours 45 minutes
---
Lapsimurhaaja - Ingeborg Anderssonin tarina
On kylmä kevät 1929 eteläruotsalaisessa Vesenen kylässä. Artur Andersson palaa puunhakureissulta kotiin ja löytää vaimonsa Ingeborgin istumasta pöydän äärestä. Makuukamarin puolella on pyykkipalju ja sen ympärillä perheen kolme pientä lasta – hukutettuina.

Mitä tuona synkkänä päivänä tapahtui? Mikä ajoi 27-vuotiaan Ingeborgin surmaamaan omat lapsensa? Vesenen lapsimurhaajan tapaus oli kirjailija Maria Bouronclen suvun tarkoin varjeltu salaisuus yli 70 vuoden ajan, kunnes Bouroncle lähti selvittämään isotätinsä traagista perhekohtaloa. "Lapsimurhaaja – Ingeborg Anderssonin tarina" on Bouronclen esikoisteos, joka perustuu kattavaan tutkimustyöhön.

Kirjan innoittama dokumentti "The Child Murderess of Vesene" on saanut useita palkintoja kuten parhaan lyhytdokumentin palkinnon Miami Indie Film Awards -gaalassa ja London Indie Films -elokuvafestivaaleilla.

KIRJASTA SANOTTUA

"Maria Bouroncle takes us deep into a story of real-life murder to show us the humanity – even love – behind the crime. A riveting read – haunting, atmospheric, and ultimately, heart-breaking."
Bestseller-kirjailija Manil Suri



Maria Bouroncle (s. 1965) on palannut kotikaupunkiinsa Göteborgiin työskenneltyään pitkään kansainvälisessä kehitysyhteistyössä Helsingissä, Kööpenhaminassa ja Washington DC:ssä. Nyt hän työskentelee päätoimisesti kirjailijana.
Listen to sample
---